Both dramatic and serene...
...the house, situated just below the crest of the hill, appears almost part of the mountain itself and stands 2,050 feet above sea level. Cantilevered overhangs and great expanses of glass effortlessly integrate the inside with the outside. Wright's Usonian houses are modest single-family residences, complete with built-in furniture, indirect lighting and semi-enclosed breezeways. Wright adapted his Prairie house concept to a more efficent, modern world. Designed on a hexagonal module, Kentuck Knob is a 2,200 sq. ft., one-level Usonian home.
Kentuck Knob is constructed of native sandstone and red cypress from North Carolina that blend naturally with the surroundings. The fully functioning kitchen is the architectural core of the home. The walls of stone not only anchor the two wings of the house but they also rise to meet the horizontal line of the copper roof. Just beyond the back patio is a breathtaking panorama of the Youghiogheny River Gorge and the beautiful Laurel Highlands.
Kentuck Knob represents a refinement of the many principles of organic architecture Mr. Wright explored throughout his long career. Today, the interior reflects the taste and personalities of the current owners, Hayat and Peter Palumbo, who are committed to preserve and maintain the house for the enjoyment of all those who, like them, share a deep admiration for Frank Lloyd Wright's genius.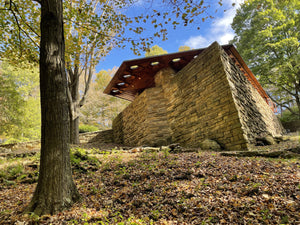 "No house should ever be on any hill or on anything. It should be of the hill, belonging to it, so hill and house could live together each the happier for the other."