The greenhouse at Kentuck Knob was originally located at Fallingwater.
Saving it from demolition, Mrs. Hagan purchased the building in 1963 from the Western Pennsylvania
Conservancy. As a proficient gardener, her abundance of plants allowed a nursery to flourish for the local community.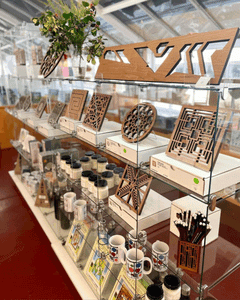 The Gift Shop is full of wonderful souvenirs ranging from Kentuck Knob puzzles, t-shirts, and books, to handcrafted pottery and custom jewelry. Purchases, can be shipped both nationally and internationally in store.
The Café is available for guests, serving delicious, hand-dipped Hagan ice cream, hot dogs, grab-and-go snacks and a variety of beverages.